The interest of choosing the topic "Solar" is to be able to know one of the alternative energies, which is the one we have from day to day within our reach and it is not only useful for obtaining Domestic energy.
Industrial, business and commercial application are one of the strongest points of concentration on this topic. 
Today cuts are evident within the budget stipulated for the troop due to multiple factors, among them the spending generated by public services in the force stands out, as we are control entities of the same means, because generating a considered expense, when Nature provides us with a means to obtain it and in this way contribute to the future to guarantee the optimal fulfillment of the mission.
An LED lamp with 1 battery, 1 inverter, and 1 photovoltaic cell, motion sensor and camera included within the same product, which guarantee day and night lighting, the reliability of not depending on an external energy system, and not use of additional cables to the product that is delivered installed, likewise each of the internal and external electric fences to the chain link, is powered by a photovoltaic system (solar panel) that guarantees its permanent electrification day and night. 
Solar lamps. (60W each)
Installation of each lamp at 7 meters high.
Lighting capacity between 8 - 12 hours (programmable)
Light intensity in darkness (night) of 7200 Lm
27m - 30m distance between each lighting pole.
120 degree lighting angle for each lamp.
Lamp installed in structural pipes and foundations in accordance with the terrain in dimensions as a result of the calculations of our engineering department.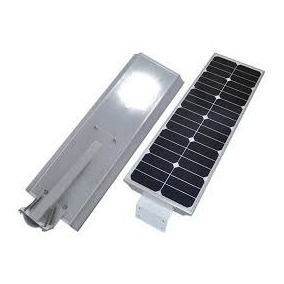 Protecting the environment could allow companies to save money, be exempt from VAT and stop evading taxes, just by availing themselves of the Benefits set forth in the Tax Statutes offered by the Ministry of Environment and Sustainable Development.